Welcome to REFBORG Billund
REFBORG is the preferred small hotel and gathering place for travelers, locals, and business guests who seek personal service in a relaxed and "hygge" atmosphere. We are located in the center of Billund, in the heart of Jutland, Denmark.
We hope you'll visit the delightful REFBORG Shop with gourmet delicacies and décor, inspired by the style and organic quality you'll find in our cozy REFBORG Eatery and fresh TAKEAWAY meals.
In 2016, we celebrated our one-year anniversary in the historical building of the old Billund Kro, which we have refurbished in a modern cozy Scandinavian style.
For business guests, we offer a calming atmosphere, with easy walking distance to LEGO System A/S and Capital of Children A/S. Book your meeting, conference or seminar in our refurbished meeting facilities, which accommodate groups from 5 to 150 people.
For travelers, LEGOLAND and Lalandia are short walks from REFBORG, and we offer tourist information for cultural, historical or natural experiences in the region, including visits to Vejle, Ribe, Jelling, Kolding and Aarhus.
For your celebrations and gatherings, we offer event planning and gourmet menus in our recently redecorated event hall.
We always look forward to seeing you at REFBORG, where you will be warmly welcomed.
Best regards,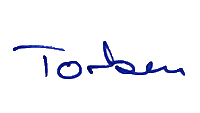 Torben Klovborg
Owner, REFBORG